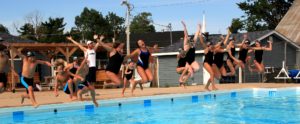 Contact a member of our Bluefin team executive by using the email below and we'll send a reply.
The Hants Aquatic Center is located at 306 Stannus Street in downtown Windsor, NS, across from the Hants County War Memorial Community Center. Look for the large blue building with plenty of parking in front. Stannus Street is just south of Gerrish Street which is the main downtown street in Windsor. Call the pool  (902)798-5523.
Click the photo above to access the Hants Aquatic Center website or the Google Map below for travel directions.